REMEMBERING WHERE
WE'VE BEEN
The Community Grace Brethren Church of Goldendale began as a dream. As far back as 1963 Pastor George Christie, founding pastor, with other Brethren pastors and people in the Northwest District, saw the potential of a Grace Brethren church in this area. In 1975 the dream become a possibility when four Grace Brethren families moved into the area from Sunnyside, Mabton, and Bickleton and put action to their desire by calling George Christie, who was then the pastor of a church in Yakima. He agreed to begin a weekly Bible study with the group. By the summer of 1976 it was decided to officially organize into a church.
The Brethren Home Missions Council, headquartered in Winona Lake, Indiana, together with the Northwest District Missions Board saw the potential of a Home Missions Church and pledged their financial support. On September 12, 1976 the church was officially organized and incorporated with 23 charter members. Soon the group began meeting in the Seventh Day Adventist building on 2nd Street (now the I.O.O.F. Lodge Building).
In 1977, God allowed the purchase of 8.69 acres of prime property just across from the newly constructed high school. On April 1980, ground was broken and the first building unit (Fellowship Hall) of a proposed two phased building was begun. The Dedication Service was held on September 20,1981.
Pastor Christie left in August of that year and went on to pastor Grace
Brethren churches in Prosser and Spokane, Washington. The Goldendale church called Pastor Greg Howell from Warsaw, Indiana, who served faithfully from December 14, 1981 until November, 2021 when the Lord called him home.
In 1982, a trailer (CE Annex) was "temporarily" loaned by the Sunnyside GBC to accommodate our burgeoning Sunday School classes. It was later purchased and remained in use as the Sunday School wing for twelve years. On July 1, 1984 CGBC became financially independent of Home and District Missions.
True to our purpose statement, "…actively reaching out to all people of all ages to evangelize them…," CGBC began a club ministry for children in 1983 that evolved into the AWANA Clubs program beginning in 1985.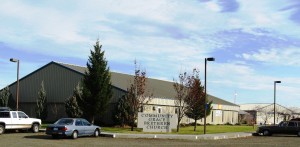 A building program was started in 1986 but was abandoned because of economic problems in the community brought on by the closure of the aluminum plant. In 1989 an Elder-led organization structure was begun which has become more efficient and effective as the Board of Overseers. With the increase in attendance and ministries, we outgrew our building and began renting the Middle School Auditorium in September 1991 for Sunday Morning worship and special evening presentations. The arrangement allowed time to pay off the existing mortgage and accumulate funds for the new building.
In the spring of 1994 ground was broken once again for a building which would provide a Sanctuary for worship, offices, youth room, nursery and expanded/remodeled restrooms. Because of all of the volunteer labor, the 10,000 square foot addition cost less than $25/sq. ft. to build and furnish. Thanksgiving Sunday 1994 was our first public service and official dedication was April 2, 1995.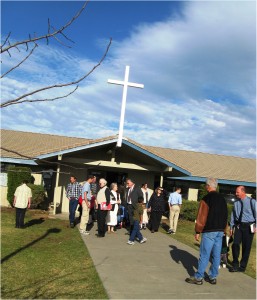 Recognizing the need to reach more of our community and to develop leadership, we employed several temporary pastoral staff: Pastor Tony Hall, first youth intern pastor, 1995 to 1996; Pastor Darrell Smith, first Associate pastor, 1997-98; Adam Copenhaver, first summer intern, the summer of 2000. Other interns included Dave Petko, 2002; Aaron Danforth, 2003; Austin Howell, 2003; Judah Harris, 2005; Matt McCoy, 2005 and first Family Pastor, Pastor Matt McCoy 2006-07.
In 2006-07 we began to house Goldendale Christian School,
and in September of 2009 we started school in the building built for the GCS. The Lord blessed the school with increased attendance requiring remodeling of the building to make another classroom to begin school in 2011 until the school closed.
The possibility of a Branch Church in Dallesport was considered in 2007. God closed that door after a couple of years, but good contacts were made who continue keeping in touch with our church.
In the fall of 2021, GraceKidz Preschool began in our education building.
Praise the Lord for His blessings and desire to use us in this community, and beyond for His glory.