Grace Kidz
-Care is for Kindergarten through 6th grade (5-12yrs old)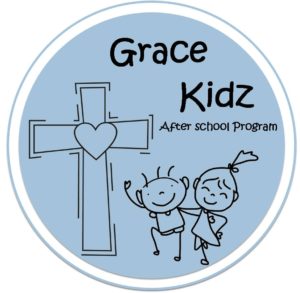 -$60 registration fee. If you pre-register (meaning before we open in September) and pay your registration fee, we will deduct it from your first months tuition.
-This is a month to month program, meaning you pay for the entire month, regardless of absences.
-Monthly tuition is based on DSHS reimbursement rates for half day center care. See the tuition schedule.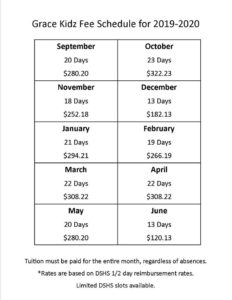 -Daily schedule is as follows. M, T, Th, F School close (2:50pm I believe) to 6pm. Wednesday is from AWANA close (4pm) to 6pm. If you need care from school close (1:50) until After School care begins, AWANA is free, provides transportation from the primary school to the church, and provides an after school snack.
-Our program includes daily activities in art, science and engineering, homework help, outdoor play/games, and social interactions. No electronics/computers unless there is a special activity.
-USDA approved snack
-Transportation from the primary school